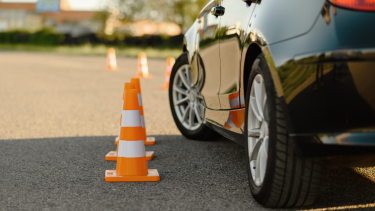 Swift Parking 101
Parking Lot Tips and Procedures
Parking Lot Safety
Our parking lot is a busy place during drop off and pick up times. To keep students safe and to keep the traffic flowing please follow our traffic rules. We are trying to move the traffic as quickly and as safely as we can through the parking lot, however, we need your help to reduce the volume of cars. Click Here for a Parking 101 Info Sheet.
To ease morning congestion, we recommend the following:
Walk to school (even on rainy days)
Carpool with a friend to decrease the number of cars coming into our parking lot.
Take the time to park legally in the cul de sac and then walk your child to class.
Use the drop off lane (ie: don't park.) Pull up as far as you can go in the marked and designated drop off zone at the south end of the school to drop off your children. We can unload many cars at a time. Do not leave your car unattended in this zone and have your child quickly exit your vehicle.  After your child is safely out, pull out carefully, watching for through traffic and people. Please remember that many cars are waiting to do the same drop off so you need to be quick!
Do Not Speed through the parking lot! Please do not endanger others because you are late. Slow down and drive with care.
To alleviate afterschool congestion, we recommend the following:
Best choice, set a meeting place and time for your child. Perhaps they wait at the garden or walk down the road a ways and you can pick them up in the cul de sac. 
Use the Quick Pick Up Lane. Do Not "park and wait" in the pick-up lane.  This is for quick pick up only when your child is already waiting for you there. 
If you do not see your child waiting, please continue carefully through the parking lot and do another loop.
When you keep moving, you allow other parents to access the pick-up lane to pick up their children.
Please ensure you give yourself adequate time so your children are not late. They should be at school and waiting by their class before the first bell.
City By-Laws and Traffic Laws
Please remember that you are subject to city bylaws and road traffic laws on public streets. Anyone can call the By-Laws Department or Police to patrol our cul de sacs. Tickets can be given out for the following infractions:
Parking in "No Parking" zones on city streets.
Parking within 1.5 metres of driveways or blocking driveways.
Parking near stop signs or by fire hydrants. 
Double and triple parking in the cul de sacs.