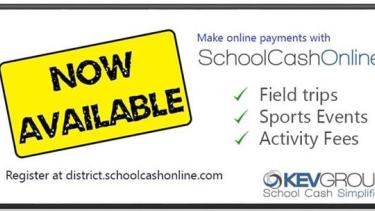 School Fees
SchoolCashOnline - Make school payments online! 
Abbotsford School District is pleased to announce the launch of School Cash Online for all schools. With School Cash Online, parents have the convenient and secure option of paying for school items using their credit card online, 24/7. You can pay for school items such as field trips and planners. It will save you time too!
To access online payments, please register at https://abbotsford.schoolcashonline.com ; it takes less than five minutes. Registered parents/guardians can see their payment history, print receipts, and receive email notifications whenever new student fees are posted for their child.
School Cash Online limits the amount of cash/cheques handled in schools, reduces paperwork, and results in more focused instructional time in the classroom. This new program will add improved efficiency and transparency in school fee management, and aligns with the district's commitment to strengthening accounting practices.
 Here is a link to some handy tips and instructions.
For more information and to register, please click here for the School District Schoolcash site.
Procedure for Field Trip Consent
In one simple place, parents can pay for and grant permission for field trips, and request to volunteer ONLINE in schoolcash. 
Please note that a paper copy of a consent form need only be sent home if the field trip is at no charge to the student. If there is a cost involved, the consent is part the of School Cash online payment system. The permission slip will appear after you log in to School Cash. Check the box at the bottom of the permission slip. Parents can also indicate if they would like to volunteer on the field trip. The teacher will contact parents to confirm regarding volunteering on the field trip. Please ensure you have completed the annual volunteer form.