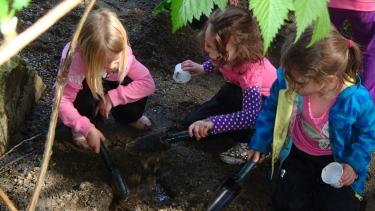 Dr. Thomas A Swift Nature Program
"Every child should have mud pies, grasshoppers, water bugs, tadpoles, frogs, mud turtles, elderberries, wild strawberries, acorns, chestnuts, trees to climb. Brooks to wade, water lilies, woodchucks, bats, bees, butterflies, various animals to pet, hayfields, pine-cones, rocks to roll, sand, snakes, huckleberries and hornets; and any child who has been deprived of these has been deprived of the best part of education."
Luther Burbank, American Botanist
Nature K Info Video and Registration 2022
Check out our Nature K Info Video Here!
The Nature K "lottery" opens in February. Information on Nature Kindergarten Registration for September 2023 will be posted later in the year.
Nature Kindergarten placements will be awarded via random draw, using the priority order outlined in Policy 18.
As in previous years, parents must FIRST register their child at their catchment school in order to be considered. Regular Kindergarten registration will take place in January 2023
Nature Kindergarten
How is it different?
Your child will be outside for up to two and a half hours daily. (Increased over time)
Students will be required to walk up to two km a day. (Increased over time)
Many learning activities and themes will take place in both the outdoors and the indoors. Our learning will be "place based" and directed by the children's interest.
There are many community partners that your child will learn from.
How is it the same?
Follows the provincial curriculum
Parental involvement is encouraged
Similar expectations and goals
The Ideal Nature K Student:
Is a good listener and can follow instructions
Likes to participate
Is accepting of new experiences and challenges
Enjoys the outdoors in all kinds of weather
Is able to walk up to 2km a day
Will be dressed appropriately for all kinds of weather
5 Things To Do With Your Child This Summer To Prepare Them For Nature Kindergarten:
Get outside in nature.
Go for regular walks.
Practice putting on gear and dressing themselves (doing up zippers etc.)
Read and talk every day to your child.
Have fun and play!
Nature K includes regular classroom time and instruction and provides the full kindergarten curriculum.
Clothing and Equipment Requirements for Nature K and Nature 1
Dr. T.A. Swift 2022-23
Classroom Basics:
1 Pair of running shoes for indoors to leave at school (must be Velcro or slip on and have non-marking soles, please label with your child's name)
A large sized back pack for carrying items to and from school (please label with your child's name on the inside)
A complete change of clothes left in the bottom of your child's backpack or with your child's teacher. This should include multiple pairs of socks.
1 lunch kit (please label)
1 water bottle for their lunch kit (please label)
Clothing:
Our goal is that your child remain warm and dry so that they enjoy the outdoors! Please check that items say WATERPROOF and NOT water resistant. If you are unsure you may wish to leave the tags on your items and check with your child's teacher.
**Please label all your childrens' clothing, especially coats, boots and rain pants.
To Stay Dry:
Waterproof Rain pants. These stay at school. - Buy from Mountain Equipment Co-op (MEC) or other similar brand. They must have a closure at the bottom (velcro or elastic)
Please avoid purchasing overall or suspender rain pants. DO NOT buy the Kamic brand as the cotton lining gets very wet.. (stays at school)
A waterproof raincoat (big enough to layer underneath)  with cinching at the wrist and a hood. - Buy from Mountain Equipment Co-op, Columbia, North Face or other similar brands. DO NOT buy the Kamic brand with cotton lining.
Warm waterproof winter jacket (Remember we are outside for many hours). An example would be Columbia Omnitech.
Insulated Rain Boots. These stay at school. We prefer insulated rubber boots without neoprene. Buy from Bog or other high quality outdoor company.
Optional - Rain suit from Mountain Equipment Co-op or other similar brand.
 To Stay Warm:
Thermal socks made from wool or smart wool (leave them at school to wear in rain boots)
A long sleeved shirt (not cotton) for the really cold days. This is called a base layer
Fleece top with a zipper or thin down packable coat (or a wool sweater that is too big and felted in the dryer! You can find them in the second hand shops)
Fleece or wool toque
Winter Gloves/Mittens - good quality (easy to pick stuff up with)
Multiple pairs of inexpensive gloves.
A neck tube or scarf for those really cold days!
Recommendations:
Brands such as MEC, Oakiwear, Bogs, North Face, Columbia, McKinley, REI (in the US), Smartwool, etc, are recommended for quality and durability
Check second hand stores for these items as chldren out grow their clothes quickly!
If you are unable to purchase these things, please contact us.